12/13/14 was the
last number-sequential
date that will grace the calendar for TWO DECADES. Nearly 20,000 couples were slated to tie the knot yesterday before the clock struck midnight. If you weren't one of those lucky pairs, but are still hoping to pick a wedding date that's as cool as it is easy to remember, here are 6 dates for you to consider in 2015. It's looking like May will be a very popular wedding month!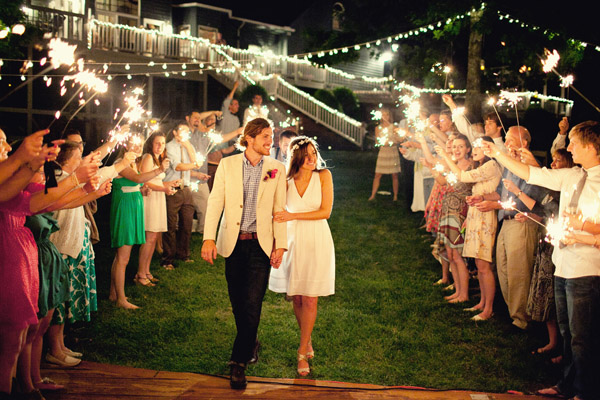 1/5/15
:
January 5th is your first chance for a fun wedding date in 2015. January is quickly approaching, so you might need to get going with your planning (or consider a low-key city hall wedding!), but the 5th would certainly make for an easy-to-remember anniversary date! Imagine all of the fun things you can do when it comes to your save-the-dates; consider sending out a round reminder with a never-ending circle of 1s and 5s to make sure no one forgets your date!
5/1/15
:
Look closely...May 1st, 2015 is a palindrome, which means it reads the same backward or forward. This would be a good date to pick if you're into numerology, the belief in divine, mystical or other special relationship between a number and some coinciding events. If your wedding date reads the same regardless of how you look at it, that may just be a good sign that your marriage will flousish no matter what comes your way.
5/5/15
:
If 5 is your lucky number, consider this 5-filled date for your nuptials. It will look nice on your favors, a corn hole board, and on customized champagne glasses. Even though this date falls on a Tuesday this year, it'd be a very nice pick for tying the knot in an intimate ceremony followed by a small party with just your nearest and dearest.
5/10/15
:
Are you and your fiancé math nerds? Then this is the date for you because 5 + 10 = 15. You don't often find dates that really add up quite as nicely like this one does. Plus, in 2015, May 10th falls on a Sunday, making it a very wedding-worthy date, so make sure you book it early.
8/15/15
:
If you have your heart set on a Saturday soiree, then consider August 15th as a possible date. It's the only time the 15th day of the month falls on a Saturday throughout the ENTIRE year...if you're able to secure this date, that's a fun fact you can share anytime anyone asks you why you picked that particular date!
11/13/15
:
Do you and your fiancé march to the beat of your own drum? Embrace your quirky personalities and unusual relationship with a completely odd-numbered date like this one. The somewhat sequential date makes it easy to remember without being too conventional. This particular date falls on a Friday, keeping in line with your unique nature.