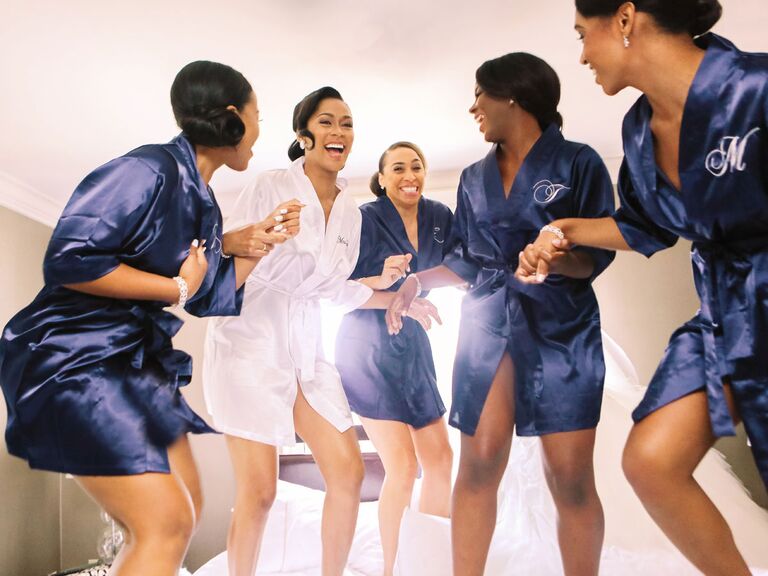 Photo by
Kay English Photography
Cocktails, couples' trivia and cake—there's nothing like a fabulous
bridal shower
! So how come every time the moment for gift opening arrives the festivities take an iffy turn? Whether you're a guest on the giving end or the bride on the receiving end, for some reason, this should-be-wonderful part of the shower gets uncomfortable (for all parties involved). There are a few simple reasons for this, and we have expert insight from Jeff Beil, CEO of
Tendr
(the easy and elegant way to gift money to the to-be-weds), on how to keep your bridal shower stress and tension free when it comes to opening gifts.
Time Vacuum
"Ask 100 people what their favorite part of a party is, and not one of them will say 'watching someone else opening their presents.' At best it's not fun; at worst, it's anxiety producing," Beil says. It eats up a large portion of party time, since the to-be-wed has to open each gift one at a time, pause for "oohs" and "awws" and put on a big display of excitement.
Disengagement Party
It's also natural for individual guests to become disinterested while the bride isn't opening their gift specifically. That adds a lot of tune-out time, depending on the number of attendees. "Unless there's a way to have all of your guests interacting with the bride and each other, individuals will start to feel left out," Beil says.
Gift Misgivings
Another reason some guests dislike this part of the party? Their potential anxiety around gift quality. "Maybe they aren't the best gift giver, or maybe they aren't as financially stable as other guests, and they have to worry about everyone's judgment," Beil says. These money concerns are unfortunate, but inevitable and prevalent, so guests giving more modest presents might not want their offering compared with the more lavish ones in front of the whole group.
Spotlight Stress
As tedious as this process can be for shower attendees, it can also be a bit taxing for the bride-to-be. "She's put on the spot in front of all her guests, opening every present with a smile plastered across her face," Beil says. "It seems that the gift-opening process is something that should be done in private, and not with the whole room waiting for a reaction. Now, we're not saying it's no fun to receive presents—keep 'em coming!—but high expectations for the bride to fawn over every item can take a lot out of her and definitely strain the party mood.
Activity Alternatives
In order to maintain a light, fun atmosphere, include games and activities that let guests interact in a fun, effortless way. This is a particularly great idea if you have many guests who've never met. Some fabulous
bridal shower games
to try? "A 'Does the bride really know the groom?' questionnaire game, having your guests write creative date night ideas for the soon-to-be newlyweds, bridal shower Scattergories and bridal Jenga," Beil says.
Note Well
Ultimately, no bride wants to appear ungrateful to her guests by neglecting their thoughtful gifts, but it may be in everyone's best interest for her to open them in private. That way, the actual shower can consist purely of fun activities and bonding time. But to ensure that every attendee gets the gratitude they deserve, Beil recommends that the bride-to-be write very personal thank-you notes. "Thank-you cards are often generic. Take the time to write a personalized thank-you for each specific present, including how you'll use it, what it means to you and, of course, how much you appreciated your friend's presence at the party," he says. "This will make your guests feel truly special. Chances are, they'll feel relieved they didn't have to sit through the gift opening!"