Getting engaged may be a blessing, but no one ever said planning a wedding is easy! As with any other major life milestone (having kids, buying a house, etc.), you might get thrown a few curveballs along the way. We asked real brides to share what surprised them the most about planning their big day — here's what they had to say.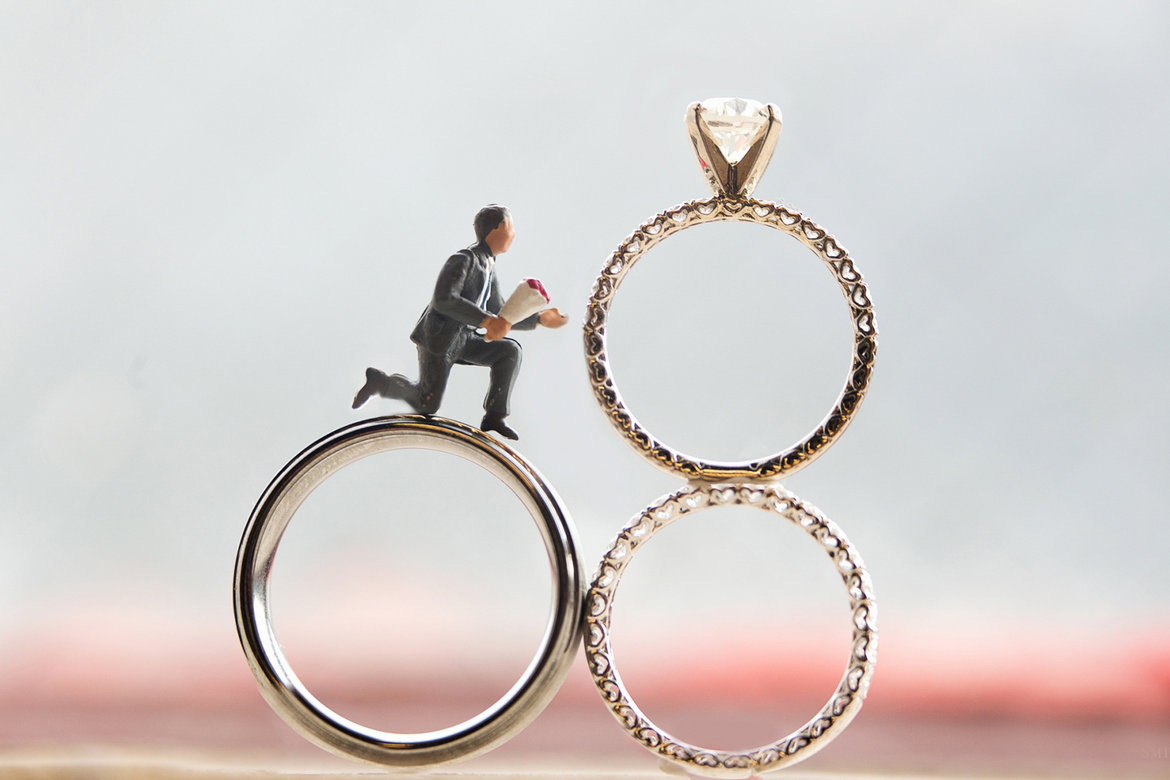 Photo Credit: Smith Studios Photography
Quotes submitted by BG's Instagram and Facebook Community:
"
I was shocked by the cost of it all.
I knew prices went up over time, but wow! You want me to pay
what
just to feed 75 people? Sheesh." —@angela.martindale1
"
I totally thought we could have our dream wedding for less than ten grand.
Who was I kidding?! We aren't spending much more than that, but it has been so stressful. I can't wait for the wedding planning to be done and to just be married." —@t.m.higbee
"I got engaged in September, and we are getting married on April 23rd, so I had eight months to plan, which I thought was
plenty
of time. However, it's been a mad scramble!
I'm shocked by how much work goes into one day. In retrospect, I think having more than a year to plan would have been ideal.
The last few months have been hard and tested our relationship. Sometimes, all we talk about is wedding plans and not about our day or feelings or relationship. The more time you have, the less stressed you'll be. However, I know all of our hard work will totally be worth it, and I'm so excited for our special day." —@david_y_lia
"I had no idea that after six years of dating,
I would fall even deeper in love with my fiancé!
I love being engaged. #itgetsbetterandbetter" —@irenedonnelly
"This is going to be my second marriage.
I'm surprised by all of the great things available online to help plan my wedding.
Years ago, you had to go to a boutique or to a wedding planner to help plan your wedding. I was able to do everything myself now, from finding ideas on Pinterest to picking out my invitations online. Not only is it so much easier to plan a wedding this time around, but I also find it to be much more enjoyable." —@PamelaZottiTanskey
"Picking the person you want to spend the rest of your life with is the easiest decision you'll make in the whole wedding process. I am a floral designer (@localcolorflowers), and even for an industry professional like me, planning is a struggle when I thought it would be a breeze. One major challenge is that I like a lot of different design styles, so having to choose one is a lot of pressure, and everyone has an opinion!
Ultimately, the venue will dictate the style direction, so deciding where to get married is the biggest hurdle.
Also, you have to take in many other considerations such as price, proximity, limitation, time parameters, cost, etc. Nothing is perfect! I will leave it at that." —@irenedonnelly
"I'd been daydreaming about my wedding since elementary school, but the planning is so much different than fantasizing about it.
Making huge decisions and putting the puzzle pieces together is fun
because you see it take shape, but it's also weird that A. the mystery is gone and B. that's it, these are your flowers, cake, venue, dress, etc. I love all of my elements, but I could have 20 weddings, all with different themes!" —@candice.thompson.14
"I wish that I would have known people wouldn't see things from my perspective. I have so many ideas, but
my family keeps giving their unsolicited opinions
— with the décor in particular — and that's not what I want. #stressful" —@the_real_cilla_1992
"I wish I had known that
most people don't understand guest list etiquette.
If it only lists
you
on the invitation, then you're the only one invited! And please don't offer to pay for the extra guests that we don't know." —@carlytefft4
"
I never imagined how sensitive the guest list would be.
Older generations expect certain plus-ones to happen. I wasn't prepared for certain people to stand their ground on the guest list. I gave in to the request, so there was no compromising. Sigh, mothers can be difficult. #momplayedhardball" —@rp1610
"
I wish I had chosen my venue before my dress.
I got so excited that I bought it before I really should have. Luckily, the style works with my ballroom venue even though we were initially thinking of having a backyard wedding." — @adriana.vasquez.5
"Be open-minded, especially when it comes to your venue. Venue shopping isn't as fun as I thought it would be.
I had my mind dead-set on a theme, but then I realized that Pinterest barn weddings aren't that realistic at the Jersey Shore.
So I took a step back, started looking again with a blank slate, and ended up going in the complete opposite direction. Now I'm having a classic wedding on the Navesink River." —@brittanyyymeow
"
I hated looking at venues — after a while, they all started to look the same.
By the fourth one, I said, 'this is it!' I wanted the fun stuff to begin." —@nat_franco
"Don't go dress shopping at too many places!
I ended up trying on over 40 different dresses, and in the end, I couldn't make up my mind.
I have given myself until the end of the week to decide." —@eleni_kts
"Saying 'yes' to my fiancé was an easier decision than saying 'yes' to my dress! There were so many beautiful styles to choose from, and
I didn't want the dress shopping experience to end!
" —@yogamaddani
"
You may not ever have that sappy, emotional 'I'm saying yes to the dress!' moment.
I never found a gown that I was 1000% in love with, but I eventually bought a nice one that I liked. It looked beautiful in pictures, but I still wish I would have had that special moment." —@mypie05
"
You may find your dream gown in the most unexpected place.
I bought the first dress I tried on while I was supposed to be looking for bridesmaid dresses. My mom passed away last year, and her favorite color was pink. I walked by this beautiful blush dress by Allure; it was a style I never thought I would like. The consultant asked if I would like to try on a bridal gown, and I said, 'Sure, why not?' She brought in the same dress that reminded me of my mom. When I tried it on, the tears began flowing, and I just knew I had to buy it that day." —@nanaloo16
"Do your research. When you find the perfect dress: 1. Put down a partial payment (most reputable shops allow this when you special order). 2.
Pay with a credit card — not debit, not a check, nothing else!
I was unfortunate enough to make the mistake of paying in full, and my money was used to cover the cost of another person's dress. The bridal store filed for bankruptcy, and I lost thousands of dollars (so did many other people in our area)." —@haydenlaynes
"We're planning our wedding from a distance. We are now living in Buenos Aires, Argentina, and we will tie the knot by the beach on the Northern Colombian coast (we are both Colombians, born and raised).
It is crazy how long it takes for vendors to respond to our inquiries.
One month to answer an e-mail? Are you kidding me?! Ugh." —@senenita
"The simpler plans are the best. You don't have to spend thousands on flowers — a few simple flower arrangements or just a bunch of tulips are all you need on tables for décor.
Whole Foods will put together bouquets at a fraction of the cost of florist prices.
" —@leighscar
"I had no idea how stressful planning a wedding could be (
especially choosing the bridal party
), but it's worth it." —@SusanTucker
"I hated the entire wedding-planning process!
If I had the money, I would have just hired someone to plan it all for me while I sat back and relaxed. My fiancé is so much more of a bridezilla than I am.
" —@seraphtron