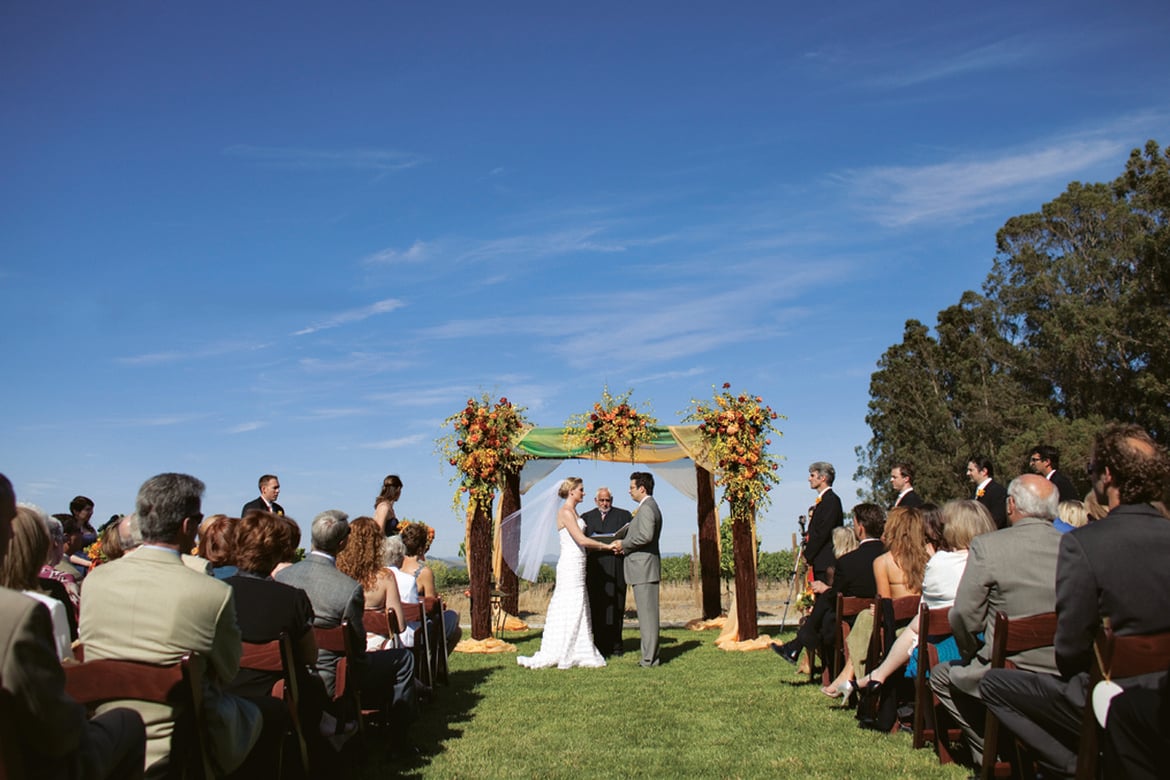 Photo Credit: Sherman Chu Photography
If you're having a summertime wedding, you're probably envisioning a gorgeous, blue-sky day that's like something out of a movie — a sea of perfect, white roses everywhere you look, and your guests in high-fashion ensembles walking through the gardens with champagne glasses in their hands, remarking how this is the most beautiful wedding they've ever seen.
What you're
not
envisioning is those same guests overheated, dehydrated and slumping in their chairs from the humidity, sweat pouring down the back of your dress, and hundreds of mosquitoes stuck in the icing of your perfect summer wedding cake. Or the guests remarking that they've never been so uncomfortable in all their lives.
Don't let mother nature steal your summer wedding perfection! We have the top tips for preventing the dangers of the dog-day summertime heat and humidity for your guests' comfort, your cake's survival, and your wedding-day bliss. Here's how to plan ahead for cool comforts and a critter-free cake:
Keeping Guests Cool
Photo Credit: Annie X Photographie
1. Choose an Indoor-Outdoor location.
If you haven't already booked your site — whether all-outdoors or all-indoors — look for a beautiful reception site that offers both outdoor and indoor party areas, such as one with a fabulous ballroom
and
a lovely outdoor terrace overlooking manicured gardens, a golf course, or the ocean. Guests can decide if they want to be in the outdoor elements, or comfortable inside in the air conditioned building. Especially if you have older or pregnant guests, it's essential to provide a cooler environment option for all.
2.
Rent A/C units
. If your wedding will be in a tent, or out in the open air, be sure to rent high-quality, portable fans that you test out in the rental store to judge their strength and relative silence. Great party fans now run at a lower volume level so that everyone can hear the toasts and the music. Invest well in plenty of these fans for everyone's comfort, and place them around the seating area, the bar, anywhere guests will gather.
3. Provide cooling gadgets.
At hot outdoor weddings, and even on the tables of the terrace, set out vases or theme-appropriate containers of little hand-held, battery-run fans, or pretty paper fans for guests to cool themselves with.
4. Provide sunscreen.
If guests will spend hours out in the sun, you're a terrific host to set a spray bottle of high-SPF sunscreen at each table as well.
5.
Serve lots of ice water in stylish glasses with pretty slices of lemon, lime or orange.
Who says your water can't coordinate with your wedding colors? Guests at outdoor weddings love having fresh, ice-cold water brought to them throughout the event, so be sure to order hand-passed ice water service on silver trays. If you're having a more informal wedding, consider stocking the bar or buffet with a few ice-filled coolers of water bottles.
6. Use natural shade.
Scout out your location and ask the site manager to arrange seats and tables under the shade of trees, or with big, bright table umbrellas.
7.
No burning their butts!
If your site will set out metal chairs for the ceremony or outdoor seating, be aware that metal can heat up in the sun. Either arrange for chair cushions or invest in fabric slip covers for chairs that will be placed in peak sunlight.
Protecting Your Look
8.
Choose a summer wedding gown made of lighter fabric,
appropriate for a hot-weather summer wedding, and talk to your gown stylist about fabrics that breathe, such as cotton organdy, chiffon, crepe, or voile over silk. You don't want horrible sweat stains under your breasts, at the base of your spine and at your armpits.
9.
Choose a tuxedo fabric that also breathes
for the men, and select open-backed vests for the men's comfort as well.
10.
Choose the right shoes. Go for comfort as well as style with
thicker heels that won't sink
into soft summertime grass.
11. Skip the train
. If your ceremony and reception will be outdoors, skip the long train that only gathers grass stains with every step you take.
12.
Prepare for summer hair. Curls and sculpted up-do's often don't fare well in hot, humid weather, so go for a trial-run hair styling with a pro, explaining your summer wedding date and experimenting with
sleeker hairstyles such as a pulled-back chignon or low ponytail.
Hairstyles with height just aren't going to look good for long in hot summer weather.
13.
Re-think the flowers in your hair.
Individual fresh blooms tucked into your hair won't have a water source and may be the first to wilt, which is not the best effect on your wedding day.
14. Pack blotting papers and powder.
Guard against shine on your nose and forehead by including plenty of blotting papers and powder in your purse or emergency kit, and ask a bridesmaid to let you know when you need to treat your skin shine so that you don't look oil-dipped in your important photos.
15. Skip the perfume.
If you don't want swarms of bees around you, skip the scent until the evening hours when you can freshen with a gentle spritz. If you or your groom have outdoor allergies, check the day's pollen counts at
nasal-allergies.com
or
weather.com
, and use your regular allergy medication to prevent the sniffles, sneezing, red and watery eyes, and stuffed-up sinuses that can wreck your look and comfort.
Keeping Flowers Fresh
16.
On a hot day, beware of your summer wedding flowers wilting quickly. Sometimes, they're droopy when they reach you, having suffered during shipment from the floral store to your location. S
o ask your floral designer to transport your flowers with extra attention paid to their water sources
, such as setting all the bouquets upright in a container with a few inches of water for the stems to drink from [you would need to make sure that your bouquet handles are wrapped in such a way—such as just around the
middle
of the gathered stems—so that cut stems are exposed at the bottom to drink up water, not fully covered by satin ribbon. Or choose single-stem flowers as both a budget idea and as a more realistic plan to keep flowers fresh and cool.
17.
Choose your summer wedding flowers well for their water source ability. For instance,
hydrangea is a lovely summer flower, but it wilts in minutes without a good water source,
so floral designers advise you to keep the hydrangea out of your bouquet and off of your groom's lapel, instead placing sprigs in little, water-filled vases on each table.
18.
Keep your summer wedding flowers ultra-cool before the ceremony, perhaps popping all of your bouquets into the refrigerator between the pre-wedding photos and when you depart for the ceremony.
And don't spritz centerpiece flowers with water for outdoor settings,
since direct sunlight will burn that water right off the bloom and turn your flowers brown. Ask for summertime-sturdy flowers and an efficient water source for all of your flowers, so that they keep their strength and look stunning throughout the event.
19.
Store your tossing summer wedding bouquet in the site's refrigerator
or in a cooler you bring with you, so that it's not sitting in the heat, losing its moisture and color.
20.
Decide on a Plan B for later-in-the-day photos.
Often, wedding photographers will bring you outside for additional couple photos while the dancing is going on, so look carefully at your summer wedding bouquet before you bring it into the frame with you. If all the flowers are droopy, dry and damaged from the heat, just leave it out of the frame and pose without it. Digital cameras capture every detail, and you don't want to wind up with the horrible surprise of 'those flowers are dead' when you get your fabulous couple kiss-shot photos and see the damage in hi-resolution. So be sure to look closely and make the styling decision of whether or not to have the blooms in the shot with you.
Protecting Your Food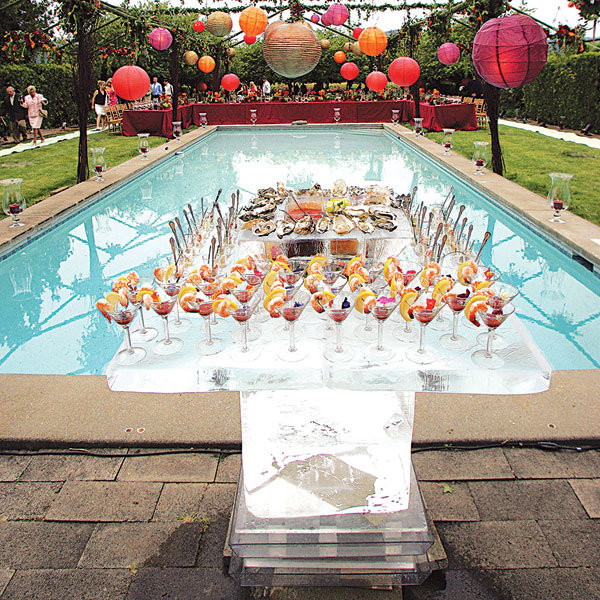 Photo Credit: Sherman Chu / Event Planner: Sasha Souza Events
21.
The heat can do terrible things to some of your menu items, including making guests sick. S
o be sure that all seafood, cheeses and meats are stored in super-cooled serving dishes, perhaps on platters made of ice,
and that the caterer keeps replacing sun-warmed salad dressings with cooler, fresher supplies every so often. Specifically ask for this cool-food service, as a safety measure.
22.
Choose lighter, non-creamy fare
for your cocktail party stations and your meal, to reduce the risk of spoilage. Summer menu items of cold, refreshing veggies, cold seafood, mango skewers and gazpacho shots are far more palatable in hot weather than heavier, cream-sauce dishes…and they're often less expensive.
23.
Cover those serving platters.
Keep the flies and bees away by choosing chafing dishes and serving platters with lids on them, and don't decorate your buffet table or stations with bee-attracting flowers.
24.
Prevent mosquito and gnat dive-bombers from attacking your cake [they love the sweet frosting!]
and
keep your cake from melting in the sun—and collapsing to the floor—by having the site staff
keep the cake in the refrigerator for the majority of the reception.
It can be wheeled out, fresh and cool, when it's time to cut the cake.
25.
Add frozen drinks to your bar menu
for your guests' comfort and enjoyment.